I mentioned earlier this week that we're on a last minute vacation. We've been super busy lately so my husband's work trip was a perfect opportunity to get away for a super cheap vacation. We're staying right on the beach and though it's been cold, it's been beautiful and relaxing. We've all been enjoying the fresh salt air and getting our toes sandy.
What we haven't been enjoying is the change to our diet. Since I had very little time to plan our vacay, we've eaten out a couple of times since we've been here. Luckily out hotel room has a miniature kitchen, so I'm able to throw together most of our meals.
Still, it's just not the same as being at home in my own kitchen- I don't even have a potholder here, much less a shredder or mixer. This hasn't stopped me from making pumpkin muffins, stir fry or some yummy GF French toast.
Since the kitchen is the size of a shoebox, I've been minimizing my time there. This basically means that I've been forgoing the additional veggie meals I make for myself. And I miss my lunch salads!
So it's juice to the rescue! I had the foresight to bring along my nut milk bag since I suspected I would be craving some nutrient dense juice. I don't normally travel without my Vitamix (when I'm with the kids anyway) so a nut milk bag is all I need for some quick and easy juicing.
For some reason, I don't usually juice pears but I'm really digging the taste combination here. I happened to stock up on organic pears right before our trip so I have plenty to use up. You could certainly sub apples if organic pears are hard to find or pricey.
Pear Cucumber Juice
2 large or 3 small pears, cored
1/4 inch piece of ginger, peeled
1 large cucumber
Juice and drink right away, sharing if you must (like I do with my lovely kiddos)!
If you don't have a juicer, load up your blender, placing the soft fruit at the bottom.
Start blending and use your tamper if needed. You can add a tiny bit of water if you need to but this blended easily without any.
When completely blended, strain through your nut milk bag and enjoy! See, you can even juice in a hotel room!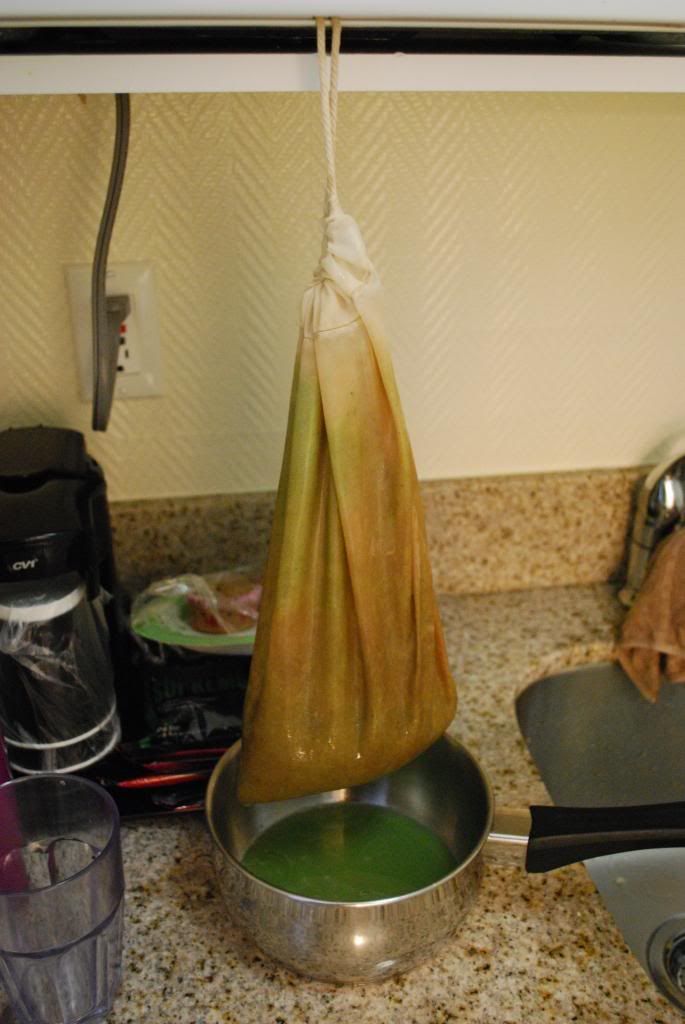 This post is shared at
Fight Back Friday
,
Simple Lives Thursday
,
Pennywise Platter Thursday
,
Gluten Free Friday
,
Keep It Real Thursday
,
Natural Living Monday
,
Meal Plan Monday
and
Homestead Barn Hop
.