Today my meal plan is posted over at Modern Alternative Kitchen. I hope you'll click on over and check it out. Then you can come back and check out this recipe. We're having it for lunch on Friday this week. It's an easy meal, perfect for the busy days ahead as the holiday season gears up.
I'm just learning to master the art of the slow cooker. My mom bought me one a few years ago and it has gone largely unused (except for some broth making) until recently. I ignored my slow cooker because it made me think of those terrible recipes where you throw a couple different cans of things in and voila- dinner! Eeekkk.
But like freezer meals, I've had it all wrong. You can still pack tons of nutrition into that pot. And, like freezer meals, I've realized that slow cookers are a busy lady's bestie.
This recipe is one of my new favorites since Andy is a lover of tacos. You can also tailor to this recipe to fit your time requirements for the day. Below I include some options to make this a super easy meal to pull together.
Slow Cooker Chicken Tacos
Purple Cabbage Slaw
4 cups sliced or shredded cabbage
Dash of salt
Optional Additions
tortillas
sliced avocado
1/2 onion, sliced
1 bell pepper, sliced
Combine all ingredients for shredded chicken, except the chicken, in slow cooker.
Place chicken in slow cooker and turn to coat.
Cover and cook on low for 6 hours (8 if frozen) or high for 3 hours (4 if frozen).
Optional: add a sliced bell pepper and half an onion during the last half hour.
For the slaw, mix everything together and massage cabbage to help break it down. Alternately, you can make this ahead of time and allow to marinate fridge.
Serve with or without a tortilla (we had sprouted) and top with some yummy avocado.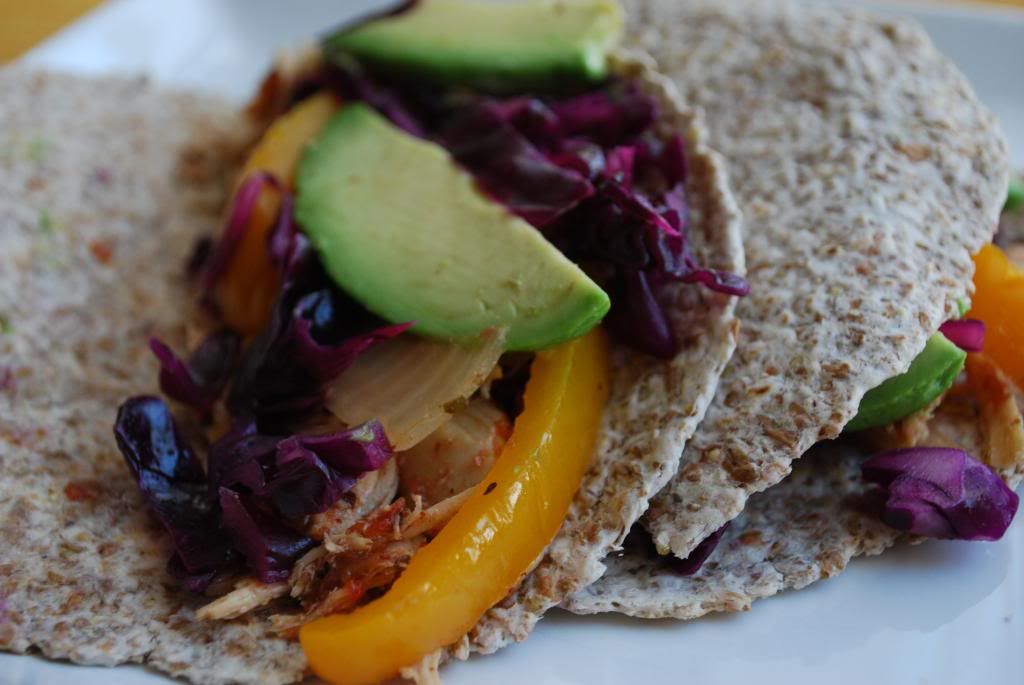 This colorful, flavorful meal definitely doesn't remind me of canned food!
So make yourself a yummy home cooked meal- even better, make a double batch and freeze half for another day!
This post is shared at
Natural Living Mondays
,
Monday Mania
,
Homestead Barn Hop
and
Melt in Your Mouth Monday
.